Cantonment. Photo Credit: Ghana the Black Star of Africa, Facebook.
Cantonment is a suburb in the La Dade Kotopon Municipal District. Ring Road East, Cantonments Road, Liberation Road, and Giffard Road all encircle it on the outside.
Cantonment is home to several important landmarks and institutions, including the Ghana Armed Forces Command and Staff College, the United States Embassy in Ghana, and Osu Castle, formerly the seat of government in Ghana. It is also known for its well-manicured parks and gardens, including the Cantonments Botanical Garden.
Cantonment has a mix of modern and colonial-era architecture, with many older buildings being renovated and converted into luxury apartments, hotels, and restaurants. It is a popular destination for expatriates, diplomats, and high-ranking government officials due to its central location and amenities.
Overall, Cantonment is a vibrant and cosmopolitan neighbourhood that showcases the rich history and cultural diversity of Ghana's capital city.
In this guide, you will find out about:
Ghana Police Headquarters Photo Credit: Google Photos.
It's home to the Algerian, Russian, American, Chinese, Hungarian, Norwegian, Mexican, and Bulgarian embassies, as well as the high commissions of Australia, Sierra Leone, and the European Union.
Cantonment is a relatively safe and secure area, and the presence of the Ghana Police Headquarters in Cantonment provides an added layer of security to the area, making it even safer for residents and visitors.
The Cantonments area was intended to become a military quarter under the British Colonial government on the Gold Coast, now Ghana. However, it was upgraded to become a modern, planned residential settlement. The wealthy, academics, or representatives of the government frequently reside in the area's homes.
Koala Supermarket. Photo Credit: Google Photos.
Friendly is a spacious retail destination offering a wide range of merchandise, ranging from essential goods to furniture and more. Additionally, it boasts a complimentary children's playground, providing free access for kids. The establishment prides itself on providing long-lasting items at affordable rates. Furthermore, Friendly encompasses a large parking area to accommodate its visitors conveniently, and its staff members are known for their amiable and supportive nature.
Koala Supermarket in Cantonment is recognised as a reliable and convenient shopping destination that offers a wide array of products, including imported goods, while providing a pleasant shopping experience for residents and visitors alike.The supermarket also emphasises customer service, with friendly and helpful staff available to assist shoppers and answer any inquiries.
Bok Nam Kim Golf Course is a premier destination for golf enthusiasts to visit at leisure. With its well-designed course, stunning surroundings, and top-notch amenities, it offers a memorable and enjoyable golfing experience for players of all abilities. Furthermore, the golf course regularly hosts tournaments, both for recreational players and professionals, contributing to the vibrant golfing community in Accra.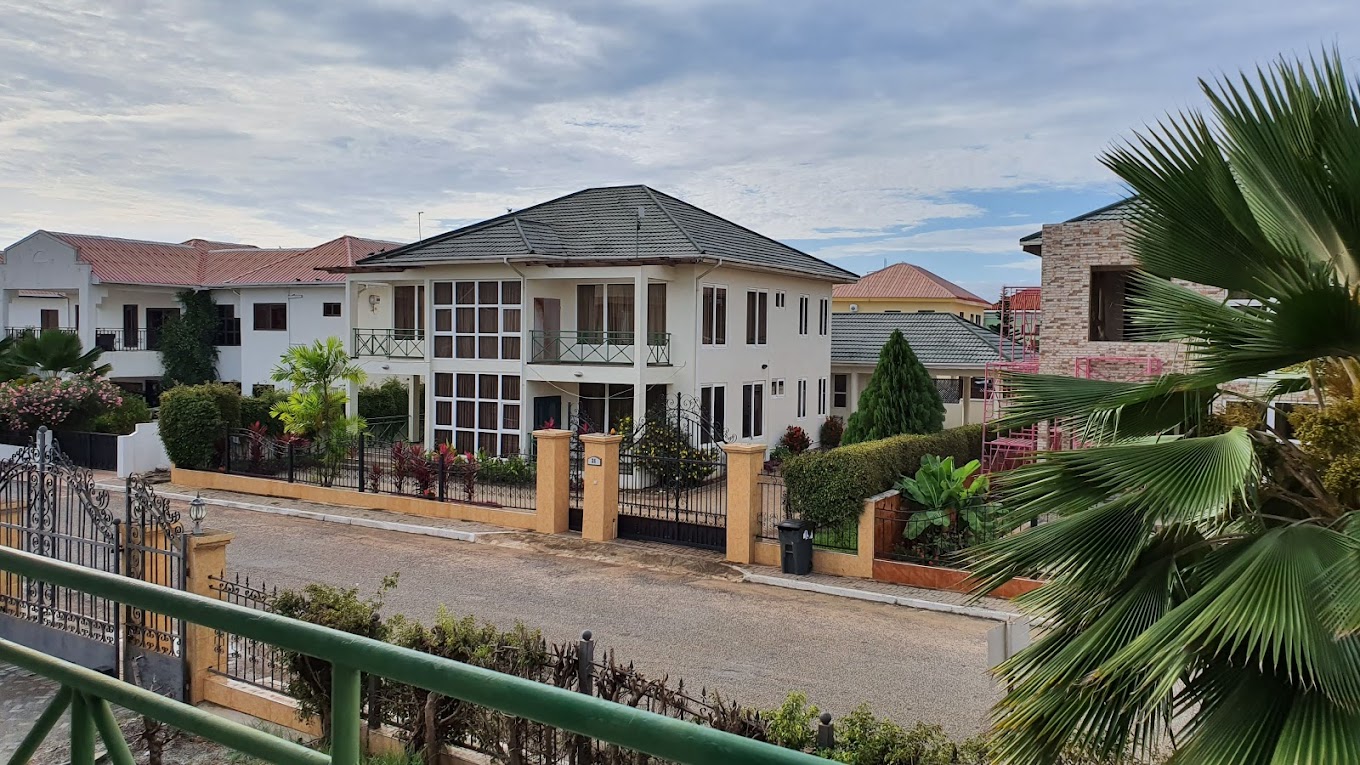 AU Village. Photo Credit: Maxwell Agyebeng, Google reviewer.
Crystal Homes Apartments is a residential estate with a variety of apartment units designed to meet a variety of housing needs. The apartments are well-kept and offer comfortable living spaces. The estate also provides residents with shared amenities such as swimming pools, gyms, and playgrounds.
AU Village is a luxury residential estate. It provides a variety of housing options to accommodate a variety of preferences and budgets. Apartments, townhouses, and standalone houses are available on the estate. Residents of AU Village enjoy a comfortable and convenient living environment. It also provides communal amenities like swimming pools, gyms, and playgrounds to foster a sense of community.
Panorama Estate is another notable Cantonment residential estate. It provides a variety of housing options. The estate is well-known for its beautiful views and spacious living areas. It has well-kept lawns and communal amenities such as swimming pools, gyms, and playgrounds to improve the residents' quality of life.
Capitol Cafe and Restaurant. Photo Credit: Capitol Cafe and Restaurant, Website.
Burma Camp Sports Complex is a beautiful sports complex. Because military management is in charge of maintaining it, the facility is well run. Facilities in the sports complex include a gym and swimming pool for adults and kids. The swimming pool has a wide range of activities to train athletes as well as accommodate those who love water for a relaxing moment. The facility also has other sports centres, such as a tennis court and a football pitch.
Situated in a serene neighbourhood, East End Bistro proves to be a delightful retreat for both daytime and evening relaxation. Boasting a charming blend of indoor and outdoor spaces, this restaurant offers a captivating atmosphere accentuated by its exquisite decor. The attentive and friendly staff go above and beyond to ensure exceptional customer service, while the beverages on offer are a delightful treat for the taste buds. As for the cuisine, the food at East End Bistro is nothing short of satisfying and delectable.
Capitol Cafe and Restaurant entices sophistication, panache, unrivalled quality, artistic flair, and opulent indulgence. While it may be on the more expensive side of the scale, rest assured that every penny spent translates into a worthwhile experience and exceptional service. The restaurant's prime location adds to its allure, attracting a distinguished clientele and creating an environment brimming with both magnificence and prestigious company.
Base Lounge. Photo Credit: Base Lounge, Instagram Page.
Base Lounge is a popular nightclub with a lively atmosphere for dancing and partying. It has an excellent sound system and DJs who play a variety of music genres such as Afrobeat, hip-hop, and reggae. It is located on the ground floor of the Icon House and is a popular hangout for Accra's young people after dark.
The Oasis Pool & Shisha Lounge is a one-of-a-kind establishment that combines a swimming pool and a shisha lounge. It's a popular spot for friends to relax, swim, and smoke shisha. The lounge provides a comfortable setting for socialising with friends. It also has a bar where you can order cocktails and other drinks.
Cloud9ine Club is another popular Cantonment nightclub with a large dance floor, great music, and a VIP lounge. It's a great place to spend a night out with friends while listening to the latest hits by local and international artists. It is located in a secure and tranquil setting and has a wonderful ambiance.
Ghana International School. Photo Credit: Ghana International School, School Website.
Morning Star School is a private co-educational institution that provides education from preschool to senior high school. The school follows the Ghana Education Service (GES) curriculum and provides a Christian education to its students.
New Horizon Special School is a special needs school in Cantonment. The school educates and trains children and young adults with special needs, such as physical and intellectual disabilities. The school provides a variety of educational and vocational programmes to help students develop their skills and reach their full potential.
Ghana International School (GIS) is an international school in Cantonment, Accra. It provides education from preschool to senior high school and follows the International Baccalaureate (IB) curriculum. The school provides a multicultural environment and prepares students for tertiary education both in Ghana and abroad.
Do you want to know how much it would cost to live in Cantonments? Here are the average property prices in Cantonments, Accra.
Some available property in Cantonments